Moving images: Making tracks available
We make people and goods mobile! InnoTrans, the leading international trade fair for transport technology, will be taking place as usual in Berlin from April 27 to 30, 2021. With this video, we would like to get our customers in the mood and give them a taste of what to expect next spring at the Vossloh stand, the unique systems supplier in the rail infrastructure sector.
The entire Vossloh trade-fair presentation will then be under the motto: "Making tracks available" – our conviction and motivation.
Maximum availability of tracks and reduced maintenance costs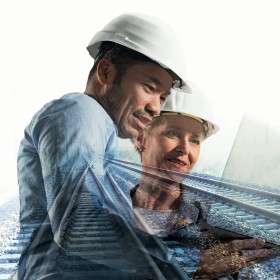 "Making tracks available" signifies the sustainable increase in the profitability of route operators. Vossloh has succeeded in accomplishing this by developing new digital solutions in combination with proven rail technology and consequently effectively increasing track availability. Forward-looking and optimized maintenance concepts are being implemented around the world by using innovative products and sustainable materials from Vossloh. Maximum track availability and reduced maintenance costs are achieved by combining digital technologies. This also creates added value, as we collaborate with our customers on the basis of an intensive and cooperative dialog aimed at achieving optimum results.
A change of perspective in the rail world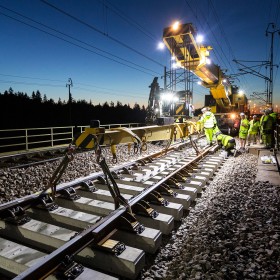 Rail transports goods and people in a more sustainable manner than any other mode of transport. Vossloh makes sure that the railways function reliably. For free, safe and quiet travel. For the sake of the environment. Around the world.
Vossloh is shaping the future of rail. Our infrastructure services are changing perspectives in the constantly evolving world of the railway industry. Mirroring the analog world into the digital world is creating new dimensions. And it is precisely the seamless coordination and fusion of analog and digital technology that is helping to create innovative solutions in our three divisions Core Components, Customized Modules, and Lifecycle Solutions.
Vossloh provides innovative digital product developments and services based on its longstanding expertise in analog products that stand for safety, sustainability and efficiency.
Digital Turnout Management
In the run-up to the fair, we will be providing regular information here on Vossloh's highlights at InnoTrans 2021 in Berlin. Have we aroused your curiosity yet? Of course, the entire Vossloh team would be pleased to provide you with organizational and technical information right up to the start of the fair. And, needless to say, we will gladly inform you in advance about our technical solutions and products. An e-mail to innotrans@vossloh.com is all you need to get in touch with the Vossloh team. By the way: In 2021, you will find us at our usual location in hall 26, booth no. 975